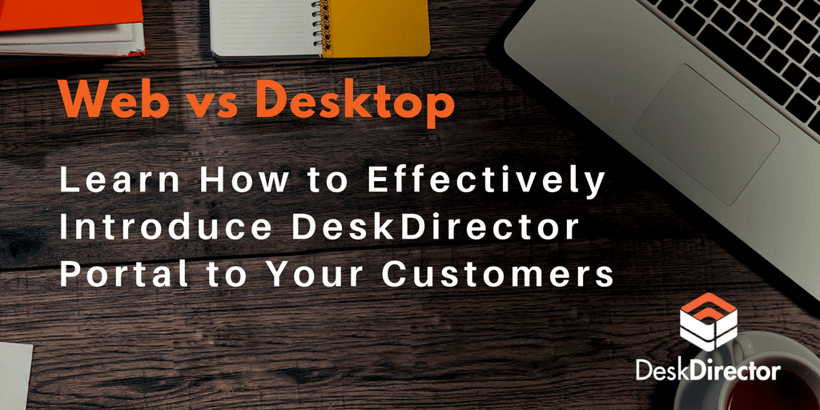 Often MSPs overlook the importance of successfully introducing new software to their customers. In this article, we want to give you some tips on how to choose between desktop and web version when introducing DD Portal to your customers.
You should also read: 8 tips from Lancom MSP on how to introduce DD Portal to your clients.
Choosing desktop or web version can impact the way people consume the app. There are customers that will adopt the desktop version easier than the web version, and vice versa.
So, you need to make sure you have the right version for your customers before you launch it to them.
Depending on your customers, you should start with either the web or desktop version at a time. Later, you should have a mix of both because some will like the web version, some will like the desktop client, and some would prefer to have both.
To make sure you make the right choice and your first launch is successful, let's have a closer look at both versions.
Web
For clients that are fully cloud, and are more used to using web based applications, then the web portal becomes a go to. The web version gives your clients an easy access to the portal via any supported browser, on any platform. Responsive design allows your clients to access DD from their tablets or smartphones.
The only drawback is that they need to type in the URL. Hint: you can ask them to bookmark the URL once you introduce it to them.
Same as the desktop version, they don't need to remember the password. Users can securely login in using a one-time use token emailed to them.
In terms of introduction to your customers, this can be easier, especially with your existing clients that used to email to you. You can include a link on the emails that would take them directly to the portal. Check out how to do it here.
Desktop
If your clients are hosted in Citrix, then it is most likely that the desktop client would work the best for them, considering the nature of how they work, login to their network, etc.
If they mostly work in the office, a desktop app that lives in their system tray might be easier to find than a website. At the same time, you need to consider how to motivate them to click on that icon instead of writing an email to you.
One of the benefits of the desktop app for Windows, is that with an active directory integration they can be automatically logged in when they click on the app icon.
The other thing that can get them motivated to log tickets through the desktop over the phone or email is that you can get back to them faster due to the extra information you get from DeskDirector on which machine that logged the ticket.
In general, most MSP's use the desktop client the most– as it is installed in everyone's machine, and they don't need to think about typing an URL. But again, it depends on your customers, and how much effort you put to educate them to use either web or desktop version.

To wrap it up:
As you can see, a lot depends on your customer's business environment, behaviors and preferences. You need to consider all that and decide who needs what to succfully adopt the app.
Make sure you don't push one or the other to customers that would be better with only one option. Sometimes, they would prefer both.
Just focus on your customers, select the ones that you think would fit for web or desktop version, and plan how you are going to introduce it to them thoroughly.
At the end of the day, the success of the app depends on how many people are using it. This depends on how well you roll out and how much effort you are ready to put in to help them adopt the new software. We can see that some MSPs doing a really great job with teaching their customers to use the customer portal.
See technical characteristics here: Installed client vs Web client.