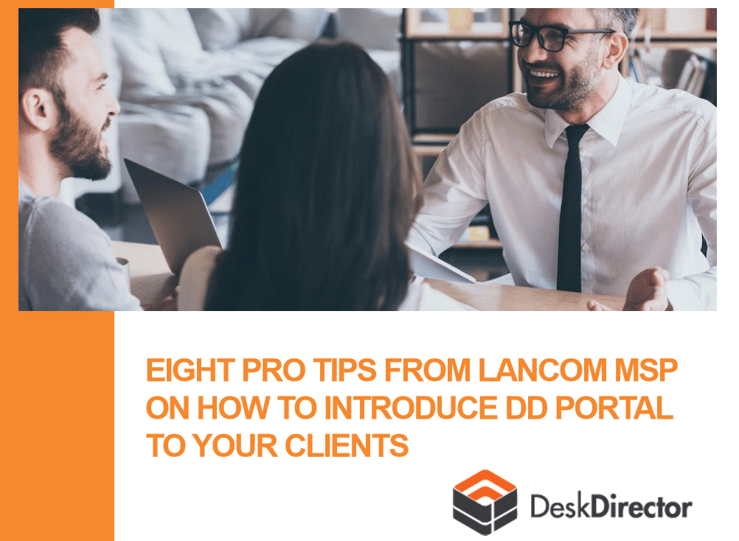 Here are some great ideas of how to do it from LANcom MSP:
1. Give them Options but Explain the Portal Benefits First
Our friends at LANcom Technology provide different options to communicate with support. However, different options are presented in a different light.
Option 1:
DD portal is a fast and easy way to request support right from your computer, and you can always chat with engineers for a quicker support. LANcom also explains why it is easier and gives a quick video overview on how to use the portal.
2. Redesign Email to Encourage the Use of Portal
Option 2:
"If you are in a hurry, you can simply email the support team with all the details of your request, and it will be sent to our engineers to take action."
Sounds usual, doesn't it? But there is a trick here with this option!
You can redesign your emails in a way that clients are required to go to DD portal if they need to get into the conversation or check the progress of the ticket.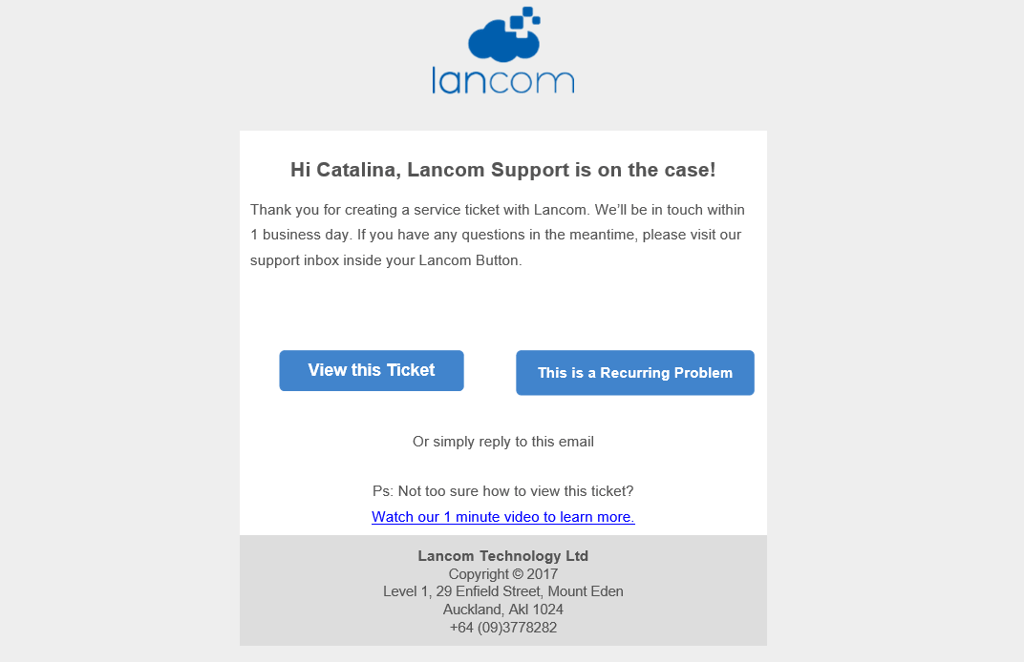 The result?
You will get the same outcome without telling them. At the same time, they will learn that it is faster to log the ticket through the portal.
Simply because your clients are reluctant to get started doesn't mean that you have to sit and wait quietly, again, you have to encourage and educate them.
We have templates and a detailed "how to" video on how to setup such emails in your ConnectWise or Autotask.
You can also find more information in your Support Portal Onboarding Centre.
3. Discourage Phone Calls
Option 3:
"Give us a call but please provide as much information as you can upfront. We will love you for that"
Sure, you still need to give this option for any emergency but don't make it sound like it is the quickest or easiest way to communicate with you. Because it is not. Saying "give us a call anytime and we will solve all your problems right away" is more appealing than "give us a call and be prepared to give us as much information as you can." Because you do need as much info as possible and if the problem is serious, you will still need to create a ticket.
4. Update New Users and Clients
People come and go. Make sure you track when your clients on-board new staff and update them with the same information. If you have new clients, make them use DD portal from the day one.
5. Give Incentives to your Help Desk to Mention the Portal over the Phone
If they get phone calls every 5 minutes, they will never get their job done. Support also needs to understand the benefits of the use of DD portal. Ask them to encourage the customers to send requests through the portal so that they can work on it faster with the required information to solve the issue.
6. Customize Some of the Features They Would Like to See
Give more options, e.g., for the urgent request, VIP or FastTrack. This will show results right away when compared to the phone support. Here's how Lancom redefines its SLA with DeskDirector.
Here's another great article on how to Customize DeskDirector using request types. You can read it here.
7. Celebrate Success Together with Your Clients
Share some data with your clients, for example, how many tickets they logged through the portal during the month or year. Tell them how much they helped you simply by logging tickets through DD portal and how it makes both businesses successful, making a great partnership.
8. Find Opinion Leaders in the Client's Company
Find people who have a certain influence and the ability to advocate in the client's company. Opinion leaders should be your key people to communicate as they will help to move things forward for the rest of the organization.
New customers vs. Old customers
It is way easier when you on-board new customers and they start using the portal from day one. Long-term customers require more effort from you; however, as long as you have a strategy and continuously educate your customers, they will change over time.
Accept the fact that there will always be people that won't change.
You can't change everyone, but you must aim to understand why they are not using your customer portal and develop different strategies.
To wrap it up:
You need to customize DeskDirector Portal to fit your clients' specific needs, it should be relevant just for them. This way it will be easier for you to introduce it to them, as they will see the value immediately.
You need to explain the benefits of using the portal too, versus emails and phone calls. Eventually, they need to choose that this is the best channel themselves. Pointing to what is good or bad for them is a wrong approach. As soon as they see the value in a way you customized it for them, you will spend less effort introducing it to them.
Don't know where to start? Choose the right version for them first. Desktop vs Web: Learn how to Effectively Introduce DeskDirector Portal to your customers.
To see all the best practices, log into your DeskDirector
Support Portal
and navigate to the Onboarding Center.