Client portal software is easily one of your company's most valuable tools. The right customer portal software allows MSPs to keep in touch with their customers and clients—and it can amplify your business' margins.
When you utilize client portal software to its full potential, your team can provide support, prioritize tasks and increase customer retention and satisfaction. If improved productivity and a better bottom line are your goals, it's time to invest in the ultimate customer success portal.
Here are some of the benefits you'll enjoy when you find the right client portal.
1) Provide instant solutions for clients
Customers want answers. Fast. The quicker MSPs can deliver them, the better the experience for customers.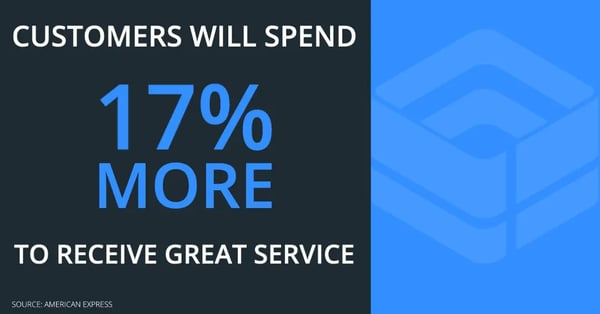 A growing focus on expedience is something they've come to expect, according to a study by American Express. The study found that "40 percent of consumers say businesses have increased their focus and attention on service." This attentiveness is rewarded—customers claim they'll spend up to 17 percent more to receive great service.
But the inverse is also true. If your company takes too long to answer support tickets, customers are more likely to cancel contracts or leave when the time comes to renew.
Client portal software is a way to provide instant tech solutions for customers and clients. Create a robust knowledge base so they can easily access support tutorials. This cuts down the time between noticing a problem and finding the answer—which makes for happier customers.
2) Minimize your tech team's workload
How are your techs spending their time? Too many MSPs find their talented techs wrapped up in menial administrative tasks, instead of doing what they do best: solving complex issues. It's because they're likely to receive dozens of support tickets for topics already addressed in your knowledge base. Here again, client portal software can help.
The right client portal features make it easy to alleviate this problem. Here are four features to look out for when leveraging a portal to conserve tech time:
Automated ticket prioritization and escalation.

With this feature, a portal can prioritize VIP customers and complex support requests, to delegate tech time where it's most-needed and best-spent.

Live Chat.

This feature is perfect to quickly address minor issues.

46% of customers

prefer to connect via live chat than via phone, and it's an opportunity to make customers aware of the knowledge base you've worked hard to build.

Embed "how to" videos, directly in the support ticket form.

Depending on the nature of the problem, you can address commonly asked questions before the customer even fills out a ticket. How-to videos are short, simple and solutions-driven.
Inline forms.

Built-in forms make is easy to collect information and organize it within the portal, or export it to other applications in your tech stack. It's one of the simplest ways to mobilize customer data in pursuit of a solution.
With a customizable client portal, you can prioritize your tech team's talent and knowledge for the most important questions.
3) Retain customers and increase revenue
Happy customers come back for more. When your company consistently provides fast, efficient service, they're far more likely to use your services again. "More than half of Americans have scrapped a planned purchase or transaction because of bad service, and 33 percent say they'll consider switching companies after just a single instance of poor service."
The stakes are high. Prioritizing great service with a client portal is key to retaining valued customers and increasing revenue.
4) Collect customer insight and information
Client portal software often collects customer insight and information. By offering a self-service support portal, you can gather information about commonly experienced problems. This provides helpful insight as to what your team can do better in the future. Better yet, you can get real-time data about what's being resolved, where there are blockages—and the data that will help you improve all of the above.
Along the way, client portal software collects data about customers—as well as their support issues—so that when a ticket is submitted, your technicians will have all the relevant details. It facilitates a faster response time, which makes for happier customers.
5) Create a community
Finally, the right client portal can help create a community. Your most passionate and engaged users are likely to visit support forums, where they can help answer questions and share their own experiences. Not only does this reduce the time your support team is answering tickets, but it also provides valuable insight into how your clients use your service and the portal's features. MSPs can use this new-found insight to craft strategies to:
Build relationships with clients, rooted in an understanding of unique business needs

Enhance service offerings to deliver more value with each type of support offered

Deliver reliable and personal customer service that's solutions-driven and fast
Experience the benefits for yourself
Your client portal software can transform the way you do business. When you want to accelerate support ticket response times, prioritize important issues, gain valuable insight, retain customers and improve the bottom line, you need the right tools for the job.
Looking for the ultimate customer success portal? DeskDirector makes it easy to improve your company's productivity and margins. Try our free 14-day trial to discover a whole new way of doing business.