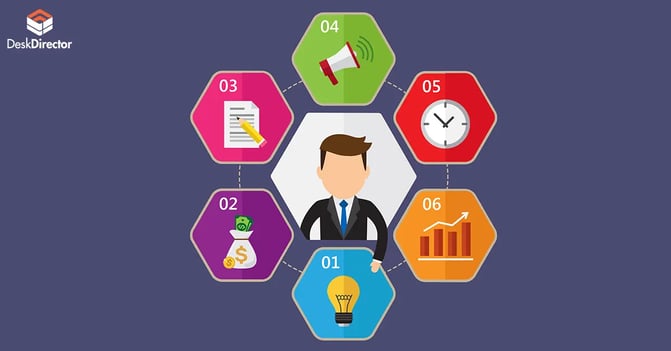 The MSP industry has shifted their thinking from wondering if a client portal is needed to asking what value it brings. LANcom Technology was a pioneer behind these radical changes. Hear what Priscila Bernardes, Customer Experience Manager at LANcom Technology, has to say about the value DeskDirector bought for her and her customers. DeskDirector has been a resounding success with LANcom, with more than 70% of their tickets submitted through the portal.
LANcom has been one of our longest customers - here is how they summarize the value of DeskDirector in these 7 key points.
Customized experience
Standardized services are the norm in the MSP industry. We like to standardize on our technology stack, the way we deliver our services, and how we model our commercial offers. With customer expectations on the increase, MSPs have to provide immediate and quick support. This dedicated platform surpasses client expectations with service customization.
Transparency with customers
Your customers are not dissatisfied with your service, but with a lack of information. With real-time notifications, the end user is informed of the ticket progress. They need to know that they have been heard and will shortly be attended to. Your customers have a portal where they can access all information related to their tickets and reports. This allows them to see your contribution in their business and build trust – a powerful tool for client retention.
Quick and immediate support
Some customers don't want to have a back and forth through email. They want their issues sorted immediately. Live chat has helped to fix small issues fast. Customers can add notes to the ticket, close it if the problem is fixed, and FastTrack the ticket in case of emergency.
Self-service
Contrary to popular belief, your customers would rather solve the problem themselves than approach you for help. Through the learning center in the portal your customers have access to all the training material in one place. You can help your customers help themselves. This not only reduce the number of incoming tickets, but also educates your clients – making you an authority for all tech-related information.
Streamlines operations
As a service provider, you focus on service delivery. That's exactly what DeskDirector helps you do. You attend fewer phone calls and emails when all the tickets are logged through the portal. Request types and DD forms provide all information to the engineer to solve the tickets – leading to tickets being solved faster.
Centralized platform
Customers know there is a single dedicated platform for IT support. You can provide them with training and learning, give them reports, and follow up on their tickets through the portal. Your customers start seeing the portal as the 'best way to ask for support'. They also feel important – that there is a platform dedicated solely for their questions.
Customer retention
When your customers see that you value them, they will stick with you through thick and thin. DeskDirector works as a customer-magnet. Once your customers find value in it, they won't be able to ever go back to phone calls and emails. They will trust you with their IT support because you chose to invest in them.
Recommendations from LANcom:
Priscila Bernardes is the DD champion for LANcom Technology – the person who drives the DeskDirector consumption intiatives in their company. She has customized the portal for her clients and made sure the tool she put in front of them was worth the effort – because there are no do-overs. Once your customers decide they hate a portal, you'll struggle to win them back.
Get familiar with the product
Go through our website, look into our demo and consume our content. You can subscribe to our weekly blog to get the latest news of the MSP industry and our products.
Value for money
For just $97, DeskDirector holds a lot more value than it costs. You can look into further pricing details here. Your customers are your biggest investment. The references and recommendations from them are unparalleled.

Ask your clients
Talk to your customers about their support needs. Ask them if they would like to use a dedicated portal. Give selected customers a trial to see how they interact with the portal and if they would like to use it. This would be the best way to judge if they want a client portal or not.
Other MSPs are improving their customer service and experience - you wouldn't want to be left too far behind. Differentiate yourselves from the crowd and become a market leader.