what's a 'task form'
A Task Form is a feature that allows you to send additional forms to already existing tickets, making them appear directly in the User Portal for your customers to review and complete.
You have the ability to create a whole array of, say, internal forms that you may or may not show in your User Portal's "Request Support" ticket. These forms will work the same as your other Custom Forms and can have multiple sections, conditionals, and so on.
You also can call already existing forms that you are already showing inside your User Portal via your Request Types of choice.
advantages at a glance
As per many of our other products and features, the possibilities are endless. Here's a list of them - which includes but is not limited to:
More Info

forms: have standardized forms ready to fire for when users need support, but they're not specific enough. i.e. "is this issue related to a specific machine/user/function?" "does this affect the whole company?" "do you have any logs/screenshots of how the issue's behaviour?" "when did you start experiencing the issue?"

Self-Service

forms: have forms ready for the most common "how do I" requests. Use markdown and HTML5 to enrich the forms and pack them with step-by-step troubleshooting and guidance so users can just follow your instructions and solve their issue

Email-to-Form

forms: t

hese are perfect if a ticket has come through the email connector, and you want to streamline the triage process appropriately by adding the right existing form to the newly created ticket;

Multi-tiered Approval

forms: very useful for HR and Procurement. You can set your User Portal side forms to have customers filling the first of two approval forms. If the designated approver gives the request the green light, you now have the ability to add a second form with relevant questions. i.e. "I need a new laptop" request -> approver signs off a laptop request with indication of budget allowance -> technician can now add a form to ask hardware and software specifications.
There definitely are more use cases and ultimately you can get as creative as you want to be.
What to look for inside the Tech Portal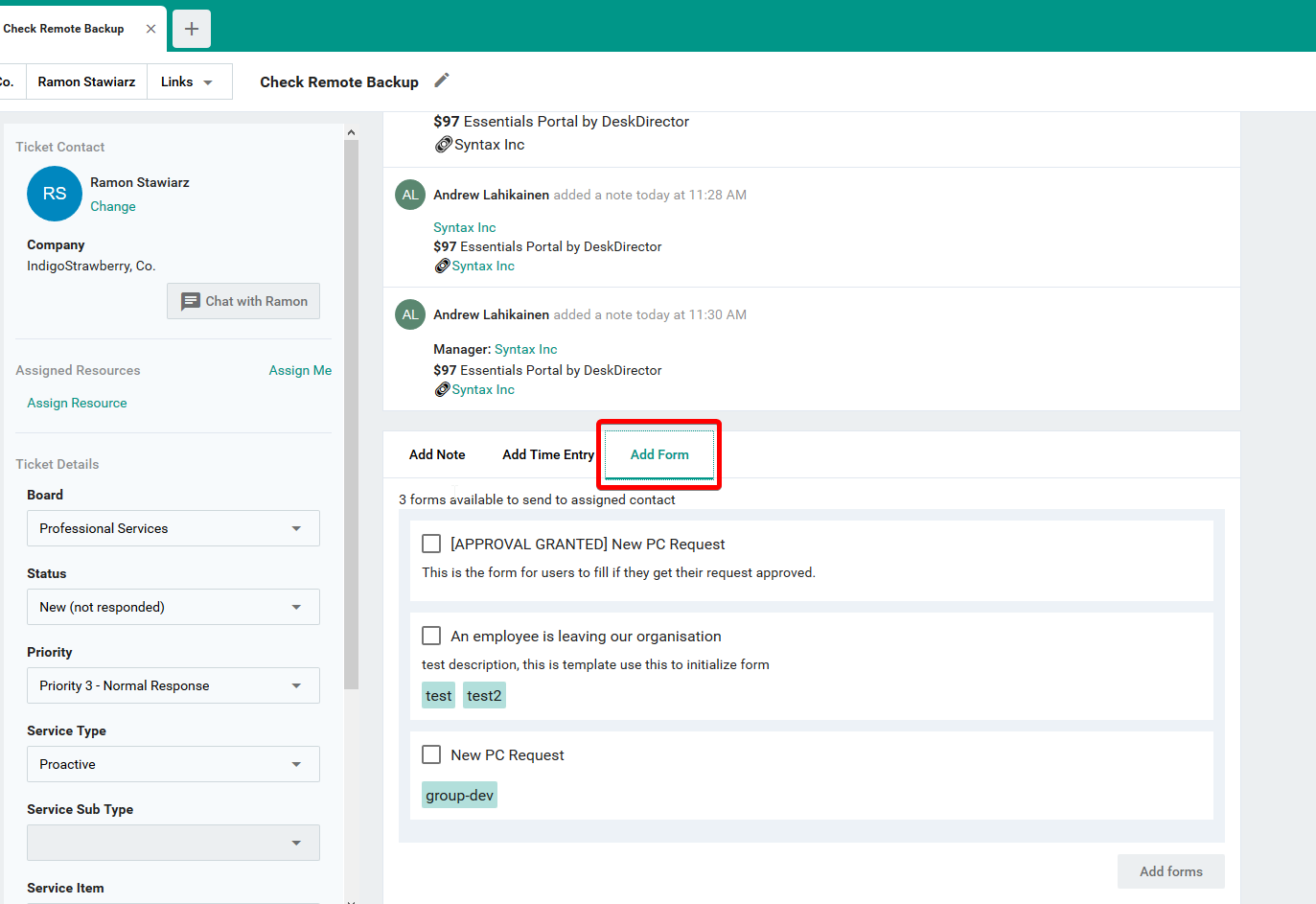 what it looks like inside the user portal

where do i learn more on Task forms
Glad you asked. We have a helpful knowledge base article that you can read and use to familiarize with the process.
Some previous knowledge on Custom Forms and Request Types is required.
Also, keep in mind that this is a resource available for all your technicians that use our Tech Portal - that is the medium you will need to use to leverage Task Forms.
That's all for today!