Providing effective customer support can be challenging. It's expensive, time-consuming, and can be a huge source of frustration for both customers and companies.
But the right customer service can make or break a company's success.
Recently, 82% of organizations agreed that customer retention costs less than customer acquisition, yet the average customer churn per year in some global markets is about 30%. In other words, customers leaving is a blackhole for revenue.
To grow a loyal customer base that drives revenue and referrals and prevents churn, businesses need to start focusing more than ever on wooing the customer. One effective way to boost client retention is by implementing effective, user-friendly client portal software that makes customers feel informed and attended to. In the era of digital transformation, an easy online experience means everything to customers, and a client portal gives them exactly that.
Keep reading to learn about the 5 most important things you can do with your client portal software that will keep clients happy and coming back time and time again.
1. Add a Personal Touch to Client Portals
A client portal doesn't have to have a generic interface. By adding personal touches to a portal, you give clients the personal experience that's often missing in customer service.. This can include adding client logos and branding to the portal as well creating custom landing pages and forms for them.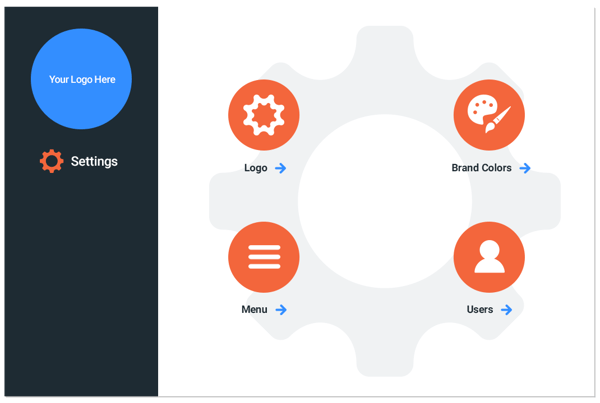 When clients log into a portal and see their brand represented, they feel right at home. Some client portal software will allow blending of the portal interface with the client's current ecosystem, which eases their transition to your services.
2.

Personalize the Onboarding Process
Onboarding is one of the most make-or-break periods for customers. 89% of clients "go through an onboarding that creates friction and frustration," and as a result, 13% switch to a competitor's services.
Onboarding always comes with its growing pains, of course, but keeping customers happy during that time is a high priority. As a business, you want to do anything in your power to personalize onboarding for a comfortable and frictionless client experience.
To personalize the onboarding process, you first have to learn the needs and goals of the client. Then, you can set up custom training and resource centers with materials that will suit the client's specific needs. You can also create custom forms for the client, making it easier for clients to submit tickets and techs to collect all of the information they need to resolve tickets quickly. The options are endless with a robust IT automation tool at your fingertips.
3. Provide Self-Training Resources
Sometimes, clients prefer to answer a question or fix a minor issue on their own without having to contact Support; they're just not given the information to do so! You can combat this by building a resource library that offers training materials for customers full of written guides, videos, FAQs and more that are easily accessible and provide common answers and instructions.
With a comprehensive resource library, clients can figure things out quickly on their own, saving them frustration and saving your employees time spent answering relatively easy questions. Self-training and knowledge base resources are a win-win on both ends!
4. Help Clients Find What's They're Looking For
Because client portal software centralizes everything, it allows clients to access data, billing, ticket statuses, live chat, and more whenever they want, all from one place. When customers have to hunt through a website or various portals to get simple information they're looking for, they might grow frustrated and reach out to support. A client portal software that keeps everything in one user-friendly place means that clients will want to stick around because of how easy their experience is.
This is also a great way to keep communication centralized. By keeping all communication in one place on the portal, clients and employees alike won't have to comb through old email threads to find a useful piece of information.
5.

Ask Clients for Feedback
One way to build a loyal customer base is by showing your commitment to improving. If customers encounter an issue and it doesn't get fixed, there's more of a chance that they'll leave. By building custom surveys to send to your clients and asking for honest and constructive feedback, you can demonstrate that the customer experience matters a great deal, and that your business is continuously looking to improve it.
Conclusion
The key to reducing customer churn is to focus on the most important part of your business: your customers. By providing them with a client portal that gives a positive experience and ensures they feel valued, you can avoid losing clients and start building a loyal customer base that will support your business for a long time.
If you'd like to take your teams and your business further as the digital transformation continues, sign up to try DeskDirector.