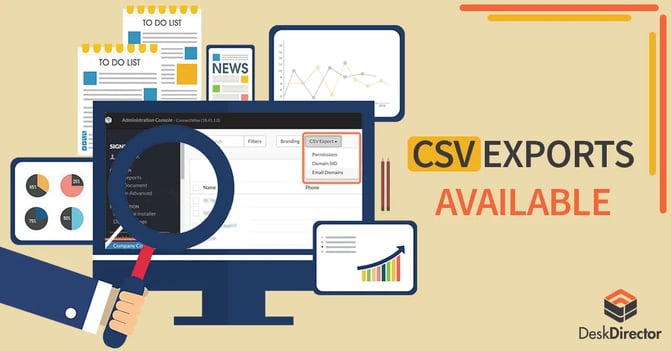 You've spoken, we've listened. One of the biggest requests we get here at DeskDirector is for more visibility and reporting.
This has been one of the main feedback points we have received from Service Delivery Managers and Customer Success Managers from multiple MSPs over the years.
With this latest update, we now have a way of allowing anyone with access to the Admin Console to get a report of which companies have what permissions.
Do you want a list of all the companies that can Chat? You got it.
Do you want all contacts with Learning Permissions? You got it.
Do you want all contacts that are VIPs with Approval permissions that also have Recommendations but not Invoices? You got it too!
Every report you get will be exported as a CSV file for you to open in your favorite spreadsheet program.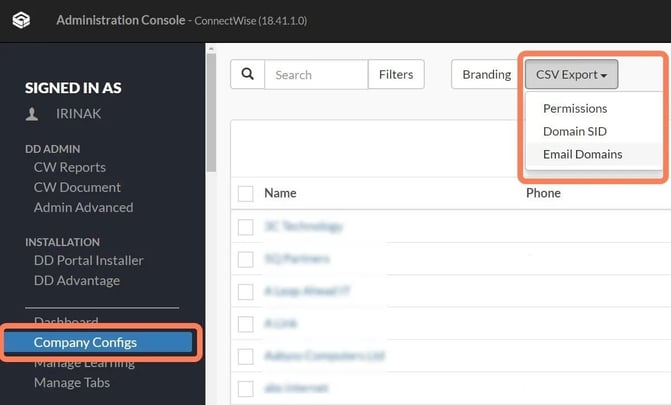 What can I do with the reports? Why would I want them?
The reports are an immense help in making sure that the key people are marked just as that, key people. It allows you to have visibility into who is a VIP, and who should be a VIP but isn't. Same goes for Approvers.
Over the years we always get requests to have information on who has access to Invoices, or who has access to a feature they shouldn't. And unless we go deep-diving into our database, the only way our clients could get that information was to go around clicking every user and seeing if they were the person they were looking for. With the new reports system, you can quickly get an overview of who has what, which should allow for better more efficient maintenance of clients. Not only is management now happy there are clear reports on who is the VIP and Approver at each company, but the clients are also happy by getting the permission they should have.
No more tickets about having the wrong permissions!
Please note that the way the CSV report works is that it will show results that have permission at the specified level. For this reason, this feature is best to be used at a Contact level to query those permissions that can only be given at a Contact level, which are: VIP, Approval, and Invoice.
Another cool feature with this update is the ability to export Domain SIDs and Email Domains from Companies. This allows you to get a list of all companies in these fields and what the values are.
To get the reports, please follow the instructions on the guide here.