According to Microsoft's recently released figures, Teams hit more than 280 million monthly active users in the Q2 of fiscal year 2023.
With so many users, it may come as a surprise that Teams can function in a way that many aren't aware of: as a ticketing system. Teams can host its own ticketing system or integrate with a third-party system to provide a robust help desk experience.
Read on for everything you need to know about Microsoft Teams ticketing systems and how they can help you slash ticket resolution time using the fan-favorite app.
What is a Microsoft Teams Ticketing System?
Teams, established in 2017, is Microsoft's business communication platform that enables collaboration, sharing, and messaging. In addition to its traditional uses, if you have a ticketing system, you can integrate with Teams and use the application as your ticketing system.
In other words, you can manage, route, and solve requests using an application many businesses already use daily along with your third-party ticketing tool.
While this isn't the only Microsoft property that can host a ticketing system (SharePoint is another), a Teams ticketing system is just as intuitive and can be incredibly powerful when paired with an external ticketing automation solution.
While there are a few ticketing systems available that can integrate with Teams, we're a bit biased toward DeskDirector (of course!), which has a brand-new Teams app to make your ticketing processes even simpler.
WHO USES A TEAMS TICKETING SYSTEM?
Anyone who uses Microsoft Teams can implement a Team ticketing system. For IT teams, help desks, customer service departments, and other areas that traditionally use ticketing, Teams can be a viable option for man aging the ticket lifecycle.
7 Capabilities of a Microsoft Teams Ticketing System
Teams has somewhat limited capabilities as a ticketing system because that's not the original intention of the application. When integrated with a robust automation and ticketing tool explicitly designed for tickets, Teams has various capabilities, including the following:
1.
Enable
T
icket
T
riaging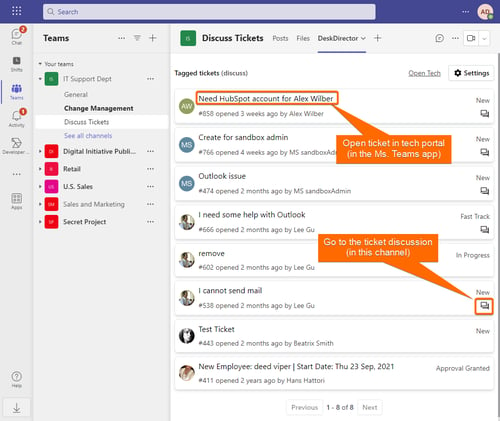 A Microsoft Teams ticketing system provides a centralized location to prioritize and categorize incoming tickets. This can help:
Diagnose the urgency and severity of every ticket (also known as

triaging

)

Automatically route and escalate requests to the proper agent
Team members can use tags or labels to categorize tickets based on urgency, complexity, or other factors. This lets agents quickly identify high-priority tickets and ensure they are addressed first.
Additionally, team members can collaborate on tickets within the Teams platform, adding comments, sharing files, or even escalating the ticket to a higher level of support if necessary. All of these actions can be tracked within the ticketing system, providing a clear history of the ticket and its resolution.
2. Turn Teams Messages into Ticket
With a third-party app, you can set up rules that automatically convert Teams messages in a specific channel into tickets based on certain criteria, such as the presence of specific keywords or phrases. For example, you could configure the app to create a ticket whenever a message includes the word "bug" or "error."
Once a Teams message has been turned into a ticket, it can be triaged, categorized, and prioritized like any other ticket in the system. This ensures that all incoming requests are properly tracked and managed, regardless of where they originated.
3.

Reply to Tickets in Teams
A Microsoft Teams ticketing system can let you reply to tickets directly in Teams by integrating with your ticketing software or using a Teams app with built-in messaging capabilities.
With integration, when a new ticket is created or updated, you can:
Receive a notification within Teams

Reply to the ticket using a messaging feature built into your ticketing system

Easily communicate with your customers or other team members without switching between multiple applications
Alternatively, you can use a Teams app with built-in messaging capabilities. Some ticketing systems offer their own Teams app that allows you to view and respond to tickets within the Teams interface. Apps can simplify providing quick and efficient support, as you can collaborate on tickets and respond to inquiries in real time.
Replying to tickets directly in Teams lets you keep all communication in one place, streamlining your support processes and improving overall efficiency.
4. Assign Tickets Automatically
With Teams, you can assign tickets automatically using rules-based automation or setting up routing workflows.
With rules-based automation, you can set up triggers automatically assigning tickets to the appropriate team member based on specific criteria. For example, you could create a rule that gives all tickets with the "hardware issue" tag to a particular tech or assign all tickets originating from a specific customer to a specific support representative.
Routing workflows allow you to set up a series of steps that tickets must pass through before being assigned to a team member. You could create a workflow that automatically routes all tickets to a first-level support team. If the ticket remains unresolved after a certain period, it can automatically escalate to a second-level support team.
In both cases, the advantage of automatic ticket assignment is that it helps ensure that the right tech or team handles tickets promptly and efficiently. This can improve response times, reduce errors, and provide end-users with appropriate support for their issues.
5.

Queue Tickets
When a ticket is submitted, it can:
A

utomatically added to a queue based on its priority level

. For example, high-priority tickets may enter a "priority queue" that ensures they're addressed first, while low-priority tickets may be placed in a "backlog queue" that techs can resolve as time permits.

Use tags or labels to categorize tickets and place them in specific queues based on their type. For example, you could create a "billing queue" for related tickets or a "technical support queue" for all requests that fall into that category.

Leverage queues to assign tickets to specific techs. This ensures that incoming tickets are routed to the appropriate team member or group and can be resolved in a timely manner.
Using queues to manage your tickets can improve overall efficiency and ensure that all incoming requests are tracked and managed systematically.
6. ESCALATE TICKETS & CHANGE TICKETS TYPE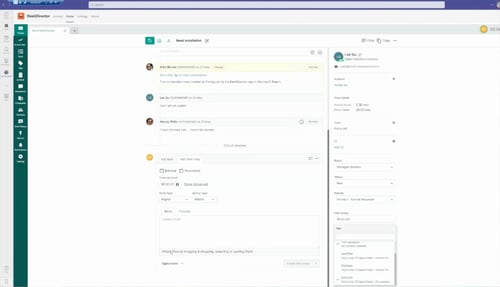 If a ticket has been open for a certain period of time, you can set parameters so that it's automatically flagged as a higher priority and escalated. Managers will get a message informing them that a ticket has passed a certain threshold so all relevant parties understand the ticket's status.
Additionally, if you change the information field of a ticket, such as the specified Product or Custom Field, you can enable those shifts to trigger a change in the ticket type or group.
With these two features, a ticket will always be categorized the way you want and will never fall through the cracks because of automated escalation.
7. AUTOMATICALLY RESPOND TO USERS
A Microsoft Teams ticketing system can automatically respond to users through the implementation of automated workflows. This intelligent system is designed to understand and interpret user queries or issues and provide predefined responses or actions.
These workflows can be triggered based on specific events or conditions, such as ticket creation or status changes. When triggered, the workflow can perform predefined actions, including sending automatic responses to users.
For example, when a user submits a ticket, an automated workflow can instantly send an acknowledgment email or Teams message, reassuring the user that their request has been received and is being reviewed.
If a user sends a question or message that includes a specific keyword, they can get an automated response with tips that might help answer their questions.
These automated responses can provide basic information, set expectations, or offer additional instructions to users while the ticket is being processed, all without agent involvement.
AN OVERVIEW:

MORE FEATURES &

EXAMPLES OF WHAT A TEAM TICKETING SYSTEM CAN DO
With the capabilities listed above and a whole lot more, you can use your Teams ticketing system to:

Automatically escalate a ticket that's been open for a certain amount of time.

Update customers on the status of their ticket and if any action is needed.

Customize forms for efficient information collection.

Notify managers if a ticket hasn't been resolved in a certain period

Assign tickets to specific individuals or user groups based on priority level, keywords, or other categorization criteria

Set user permissions to keep support tickets confidential

Generate reports on ticket metrics, such as response time, resolution time, and ticket volume

Track ticket and team performance in dashboards

Change ticket type or user group based on a
specifi
ed field

Onboard all users and agents easily

Queue tickets for techs and users automatically

Attach files to tickets in Teams

Define and manage your Service Level Agreement (SLA)
THE KEY BENEFITS

OF A

TEAMS

TICKETING SYSTEM
For many companies, especially those already using Teams, integrating with a third-party ticketing system comes with several benefits for all stakeholders, from the company owner all the way to the end-user.
Cut Costs & Maintain High Standards: Leadership Benefits
Suitable for all companies

: A Teams ticketing system, once integrated, is beneficial to businesses of all sizes, regardless of ticket influx. Teams can handle many daily tickets when paired with powerful automation that swiftly routes service requests.

Cost efficient

: Because your Teams ticketing system will help accelerate resolution times, your team can tackle more tickets per day, so investing in a third-party ticketing tool makes up for itself!
Provide quality service

: Your company or team reflects your leadership, and by providing users with high-quality service using a ticketing system, you can maintain high standards, meet service level agreements (SLA), and support agents and clients in achieving their goals.
Stay Organized & Boost Productivity: Agent Benefits
Centralize tickets & documentation

: With all ticketing information and documents in once place, agents will never lose track of what they need to know to enable a speedy, organized resolution.
Get more done per day

: Techs can focus on high-priority tickets without having to manually route, categorize, or update users on tickets, making day-to-day operations more efficient and more enjoyable.

Easy and intuitive

: Microsoft Teams is user-friendly and doesn't require much training, especially for those already familiar with the interface. A good third-party tool will integrate seamlessly with Teams, making for a cohesive experience.
Communicate Easily & Accelerate Resolution:

End-User

Benefits
Faster ticket resolution

: The number one thing end-users want is for their issue to be resolved in a timely manner. Using a Team ticketing system ensures that the volume of support queries is tackled efficiently and no request goes unanswered.

Superior communication

: Clients won't have to wonder about the status of their ticket (or if agents are waiting on critical information from them and can't resolve the ticket). Automated updates and easy communication through Teams helps clients stay satisfied and in-the-know.

The human element

: Because of Teams' communication-based nature, a ticketing system integrated with the application fosters conversation in a way that faceless bots don't. The ability to reply to tickets directly in Teams (or create tickets from messages) makes for a more personal experience.
On its own, Teams has limited customization and minimal reporting and analytics. Once integrated with a third-party tool, Teams is an incredibly effective ticketing system and is valuable for many organizations.
INTEGRATING TEAMS WITH YOUR TICKETING SYSTEM
Want a clear process for how to bring your ticketing system and Teams together in harmony? Check out The Integration of Ticketing Systems and Microsoft Teams Explained for a step-by-step process on making this happen.
FREQUENTLY ASKED QUESTIONS ABOUT DESKDIRECTOR'S

TEAMS

INTEGRATIONS
Like we said before, we wholeheartedly believe that DeskDirector is the best ticketing system to integrate with Microsoft Teams, and we're here to answer the most common questions we get about this capability:
Who provides ticketing system support, DeskDirector or Microsoft?
DeskDirector's support is available to assist with any needs that arise! Simply submit a ticket and we'll be in touch with you quickly to help resolve your issue.
What is the DeskDirector Teams App?
We offer a brand-new Teams app, so you can create tickets, communicate with agents, set notifications and automation, and much more, all from the palm of your hand! To learn more about the Teams app and other exciting product updates, you can visit this blog.
Can I try DeskDirector before subscribing to the ticketing system?
Sure! We offer 14-day trials to give you a feel for DeskDirector's interface and Microsoft integration capabilities. You can sign up for your free trial

HERE

.
Can I have a Teams ticketing system without integrating with a paid third-party tool?
This is not recommended. While Teams itself has

very

basic ticketing capabilities, it won't serve even the smallest of businesses well. Integrating with a ticketing system to make the most of Teams is a must if this is the direction you want to go in.
Microsoft Teams Ticketing Systems: The Conclusion
A Microsoft Teams ticketing system can be worthwhile, especially for organizations already comfortable with Microsoft properties. But of course, Teams itself is a bit more limited when it comes to ticketing capabilities. For a truly comprehensive experience, you can integrate with ticketing software to enhance your Teams environment, streamline ticket resolution, and improve employee engagement.
Looking for a ticketing solution that integrates seamlessly with Microsoft properties? Sign up to try DeskDirector and learn more about the new DeskDirector Teams App!