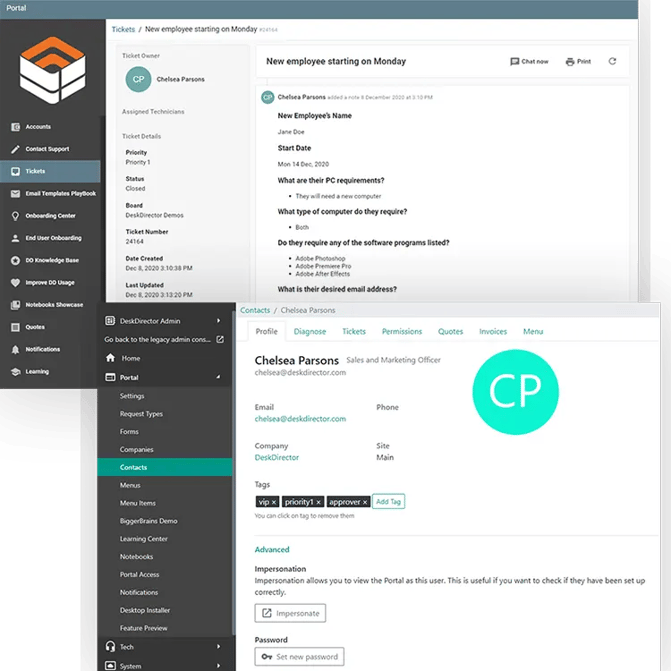 How do you alert your clients about their ticket changes?
Emails?
The result: Cluttered inbox, uniformed client.
How do you inform your numerous clients of critical outages or updates?
Emails? Phone calls?
The result: Cluttered inbox, multiple phone calls, uninformed clients, and a million support tickets.
How do your technicians get informed?
Emails? PSA?
The result: Cluttered inbox, missed emails and old open tickets
We have a better solution at DeskDirector – our Notification System. This robust system works at the micro-level with Ticket Notifications in the Portal and DD Tech and extends to the company level with Broadcasts.
Here are the different Notification types available with DeskDirector:
Ticket Notifications
The ticket owner receives alerts on ticket status changes, added notes, and approvals
Broadcasts
These alerts are for critical outages and updates that affect the majority of a company/site


DD Tech Notifications
Your techs will be able to see ticket changes within DD Tech and access tickets directly
New Alert: Get DD Tech ticket alerts on Microsoft Teams and tag the assigned resources so that no time critical tickets are missed. Get more information below.
Ticket Notifications:
Instead of filling your client's inbox with support emails that they don't read, alert them using browser or desktop notifications that they can see without having to access any emails.

You have the power to control which clients get notifications and which queues, service boards, and statuses trigger them. Even if they log the ticket via phone or email, they still get the notification. This helps introduce them to the ease of accessing tickets in DeskDirector. The notifications are always available in their portal, so they can easily see the ones they have missed. Web and Desktop clients alike have access to the notifications.
In case you have not set this up for your clients, here is a set-up guide.
Broadcasts:
When things go wrong, your help-desk is often flooded with calls or emails. With DeskDirector, Broadcasts you can cut down on duplicate tickets and keep the clients informed. They will love you for it! You chose who to send the broadcast to. If it's about a server issue, maybe just the site that's affected. If it's about an issue at your end, or maybe your office is shut, send it to all of your clients.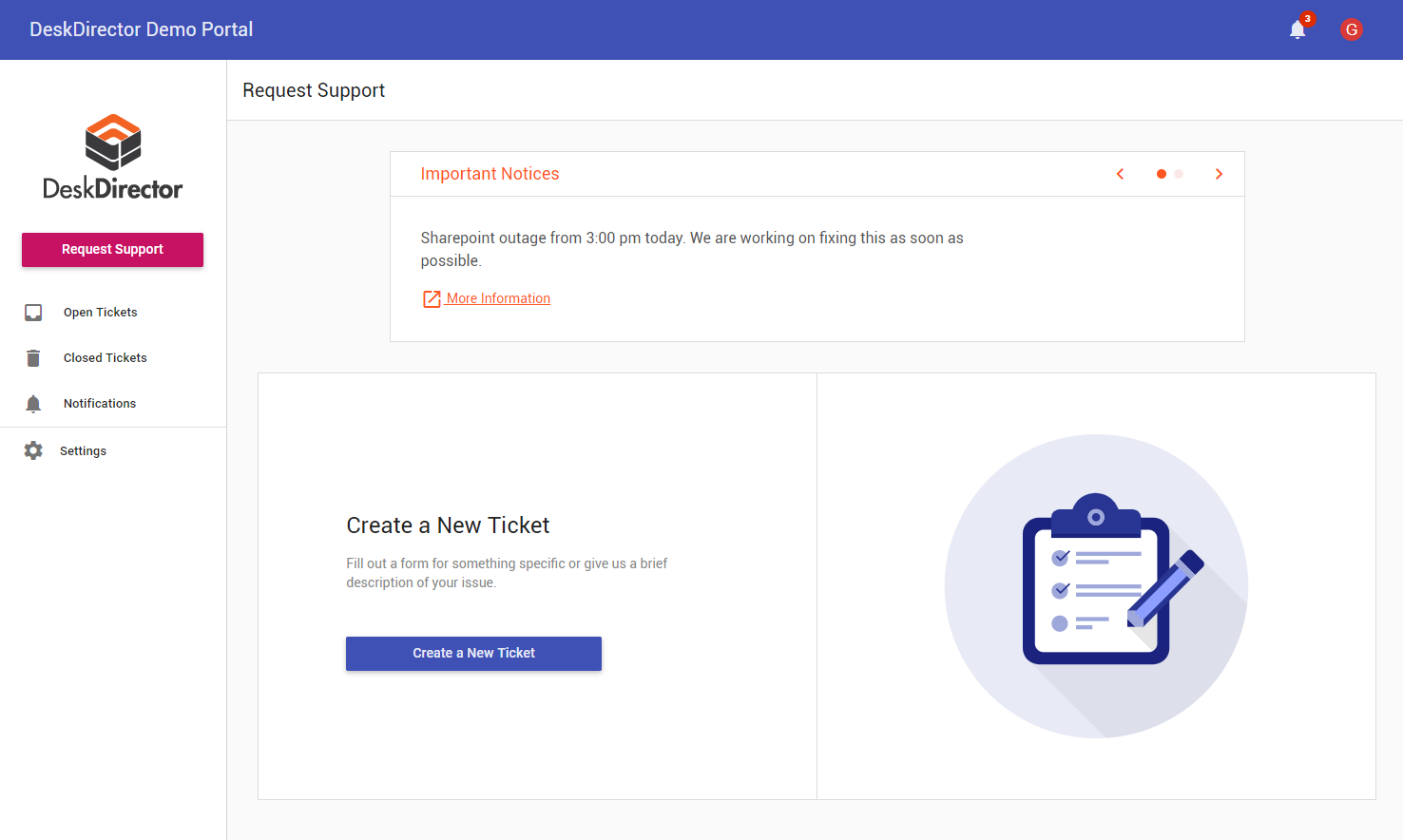 Clients will receive a nice desktop and browser alert when the notification is triggered.
To learn more, start with our broadcasts guide.
For critical alerts, you can use Sticky Broadcasts. These remain on-screen until they're acknowledged.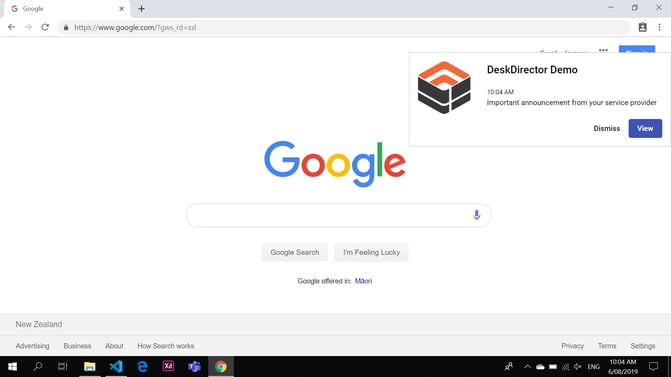 Your clients can access these notifications from the landing page, your portal, and from the notification's menu item. They'll even be reminded when they go to log a new ticket!
Here is how you can enable Sticky Broadcasts for your portal.
DD Tech Notifications
How often does it happen that the client has responded to the ticket and your techs have missed it on your PSA – ConnectWise, Autotask, or inbox. A cluttered inbox is a problem for your technicians and clients alike!
Now, through DD Tech, your technicians get notified and can directly access the ticket from the Notifications tab. It gives them a quick overview of their ticket changes in one place.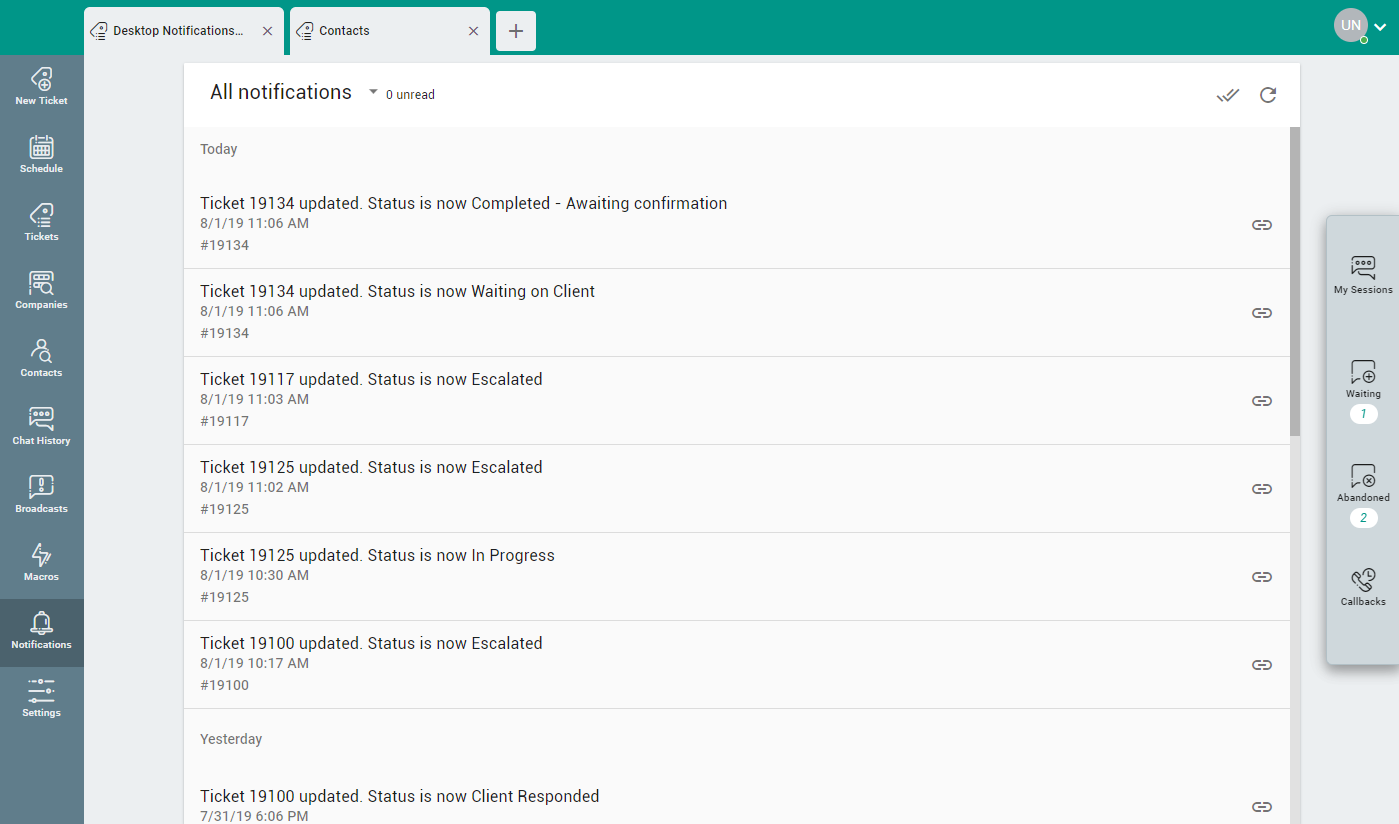 Apart from getting notifications in the application, now you can alert your techs through Microsoft Teams too! The workflow tags the assigned technician on your Support channel when there is a ticket update, making it impossible for your technicians to miss any changes. See how:
If you are looking to introduce DD Tech notifications for your Microsoft Teams, please register your interest through our Support Portal. Login --> Implementation --> DD Tech notifications on MS Teams.