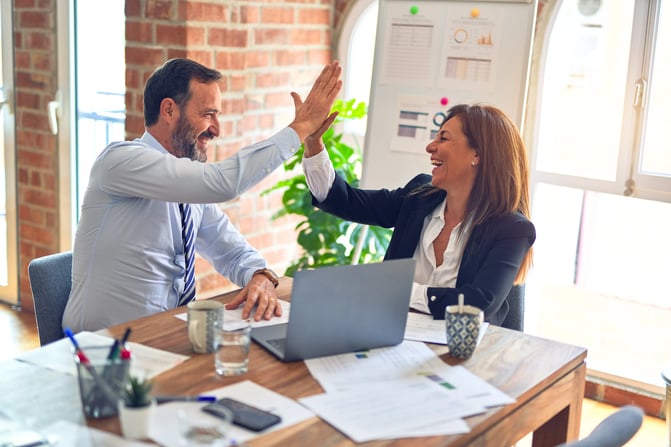 Companies allocate significant portions of their budget to sales, marketing, and customer acquisition. Yet, customer retention is where the real focus should land. Since 2016, customer churn has risen by 37% due to poor customer service. And it's an urgent problem –– since avoidable churn is costing U.S. businesses $136 billion a year.
One way to reduce your customer attrition is by improving your customer service experience. Client portal software is one practical tool that helps you reach your target retention rates. Read on for six concrete ways customer portal features help boost your retention.
1. Reporting and Analytics Provide Key Insights to Make Actionable Improvements
Client portal software can offer insights and clarity for your team and customers. If your customer portal features include reporting and analytics, you can review data that reveals performance, patterns, and usage metrics to ensure your CX is firing on all cylinders.
For example, suppose you decide to review your ticket idle time and general time to resolution data. In that case, you'll learn valuable information about your support team's performance, speed, customer relationships, and workload capacity. Based on your findings, you can make adjustments to improve the entire support and ticketing process, which will make your customers happier and drive higher retention rates.
Reporting is an essential tool since support team performance plays a huge role in customer happiness. According to ZenDesk, 82% of consumers have stopped doing business with a company because of subpar customer service. And 51% of B2B companies avoid vendors after a poor service experience.
If your goal is to keep customer retention rates high, monitor usage and performance so you can take action when necessary.
2. IT Automation

Boosts the Support Team's Vital KPIs and Response Times
If your customer portal includes automation, you'll likely notice much better help desk performance metrics. IT automation supports your service team by:
Accelerating response times

Automating repetitive tasks

Moving tickets through automatic workflows

Triggering approval chains when necessary

Triaging urgent or high-priority tickets
When automation is speeding up these processes, the support teams' efficacy will almost certainly improve, including metrics like MTTR (Mean Time to Resolve), FRT (First Response Time), NPS (Net Promoter Score), and Retention Rate. Plus, automation can assist if your support team experiences an influx of tickets or is temporarily short-staffed.
3. Customization Helps Personalize Customer Experiences
Let's face it –– as businesses grow, it can be a challenge to maintain that personal connection with each customer. So how can you maintain personalized service at scale?
Your client portal software may be the solution to this predicament. You can create customized customer portals that reflect the specific colors and logos to make your client feel at home. You can also create custom forms that ask for relevant information and email templates that feel personal to a particular customer or scenario.
The importance of personalization permeates every aspect of the customer journey, from purchase to customer support. To understand just how vital the human touch is, consider that 70% of consumers say a company's understanding of their personal needs influences their loyalty, which spells great news for your retention efforts.
4. Automatic Status Updates Simplify Communication
Customers demand quick, efficient communication with service reps through various channels. That's another reason why client portal software is so helpful: You can serve clients by offering simple methods of contact to reduce back-and-forth and keep customers in the loop.
The right platform should have automatic updates and digests available as part of their portal offerings. Customers can stay updated on their ticket status through in-app notifications and automatic emails.
5. Live Chat and Ticket Triage Organizes the Ticket Queue
When the ticket queue gets backed up, it can slow down response times and cause resolutions to take much longer than usual. Luckily, client portal software helps keep your ticket queue organized through automated workflows and the triage feature that pushes priority tickets to the front.
But what about the simple, non-urgent questions your customers might have? When that situation arises, it is usually preferable to avoid submitting a ticket all. Live chat supports quick problem solving by allowing customers to connect directly with a service rep before sending a ticket to the team. Therefore, case volume will decrease, customer satisfaction will increase, and your team's capacity will become more manageable.
6. Empower Your Customers With Self-Service Tools
Customers will always need a support team to help them solve complex issues. However, they also enjoy solving problems on their own. According to the Harvard Business Review, 81% of customers across industries attempt to take care of matters themselves before reaching out to a live representative. So, to enhance your relationship with the modern consumer, it pays to offer self-service tools.
Fortunately, quality client portal software offers features that promote self-service. For example, self-support videos can be included within forms so that if a client needs an answer to a common question, they can watch the video before submitting a case.
Additionally, offering a robust knowledge base within your client portal means that your customers can search for help articles, FAQs and additional educational or instructional resources that improve their experience.
Remember, empowered customers are happy customers, so be sure to choose a client portal software that provides self-service tools.
Create a Better Business End-to-End With

Client Portal Software
Driving customer retention is one of the most critical pillars of your business success, and your client portal can make or break your performance. If you want to reduce your logo churn and improve customer relationships, investing in a quality customer portal platform is critical. Try DeskDirector for free for 14 days to see how a client portal can drive your business goals.