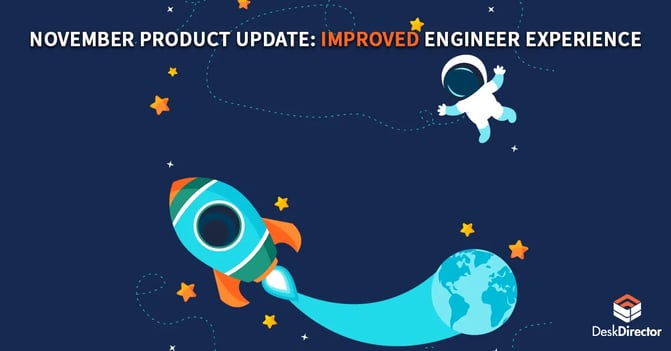 This update marks our second-to-last product update, and we could not be more excited to share our hard work with you this month. This Christmas, give your customers and engineers the ultimate gift – improved experiences.
You would like to give an effortless experience to your customers, but in reality your engineers are the bodies who do give that service and experience. Think of customer experience as a journey. In this journey your engineers are the driver who are driving the 'customer service car', whereas your customers are sitting on the back-seat like passengers. If your engineers are equipped with better tools aka better car they will be giving your customers aka the passenger a better experience. Thus, this month we decided to work on giving your engineers 'a better car'
Effortless experience by engineers = Effortless experience for clients
We bring you small but important updates this month:
DD Portal
Using Office365 account instead of SMTP server
We noticed that emails sent through the SMTP server sometimes land in the junk/spam folder. Your customers would have to notice and fish them out – and that's annoying for them.
Send them all system-related emails like email token, password reset, approval related emails through your Office365 mail account.Learn how create email templates here. These emails are less likely to fall into the junk/spam pile.
Important: We send emails on your behalf, but we have no access to your data or information. You can revoke consent at any time. You can read the steps to follow here.
DD Tech
Improve clean tickets false-positive rate
Is having too much clutter on your emails a pain? We think it is, so we present our clean email feature! This gives you the ability to:
Recognize signatures

Shorten URLs for easy reading

Get rid of unnecessary clutter (like the legal disclaimer)

Remove the reply chain
This update is from the back-end and no action is required.
The ticket as seen in ConnectWise
The ticket as seen in DD Tech
Integrations:
Supporting the recent ConnectWise change on company types
Now you can set up customized company types on ConnectWise i.e you can set up types like vendor, competition, part-owner, prospect etc so that it is easy for you to segment your contacts. The DeskDirector server now supports the change and you'll be able to see the types on the Admin console and DD tech.
In case you missed the update from ConnectWise have a look here.