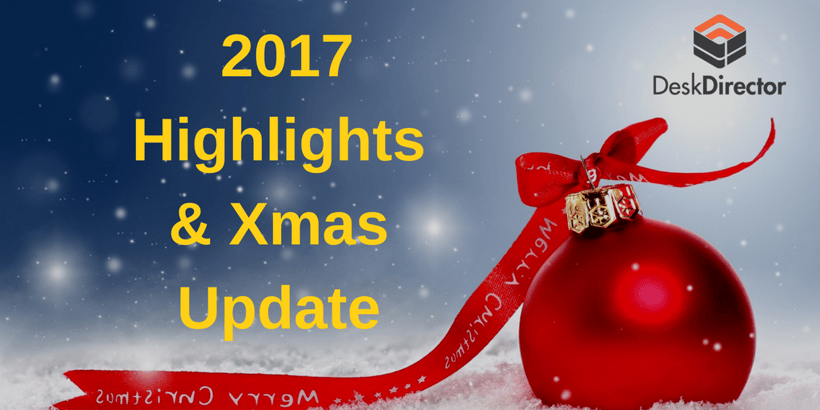 This amazing year is coming to an end and we thought it would be great to share what we have done during this year, and put some light on what's coming up in 2018!
As some of you may know, we are working on two products: DeskDirector Portal and DeskDirector Tech (DD Portal and DD Tech).
DD Portal is our core product for MSPs looking for a great customer portal to improve user experience. It works as an integration with ConnectWise or Autotask PSA, so, your data is always synchronized.
DD tech is a tech portal where techs can purely work on tickets without any obstacles. In other words, a user -friendly channel for tier one support to manage tickets in a more efficient way, with less clicks and an easy to understand interface.
DD Portal
This year we completely revamped the UI/UX of the portal, which we call DD Portal v2. In March 2018, we will cease support for DD Portal v1. So, please make sure you are ready for the change and you have enough time to introduce it to your customers.
DD Forms
We replaced Wufoo forms with our own custom forms engine. An ideal way to help your customers to put all the key information upfront and deal with the ticket faster.
This month we added a WebHook for the form submission so you can achieve automation based on a form that's been submitted. Learn more about DD Forms here.
Microsoft Authentication
You can now use Microsoft Office 365 credentials to login to DeskDirector's Admin Console (using oAuth 2). Expect to see the same MS authentication for DD Tech soon. It is already available in the DD Tech Beta (dd-tech-dev.deskdirector.com).
Additional Access in DeskDirector
This feature allows a contact to have access to another company or another contact's tickets. Learn more.
DeskDirector Support Portal
MSPs can now log support tickets through the DeskDirector Support Portal, we hope that it will give you a better feel and understanding of the product that you are giving to your customers.
BiggerBrains integration
This integration gives you an access to BiggerBrains Microsoft office course inside DD Portal. To learn more, read this blog post.
DD Learn
DD Learn is a learning management system inside DD Portal; this means that you can build your own courses inside the portal specifically targeted to your customers. This is a great way to add value for your customers.
We have around 20 MSPs registered to be a preview customer for DD Learn. We will choose a group of early adopters next year and will help you build your first course in our system. Keep an eye out for emails from DeskDirector. We will contact you directly on what you need to do next.

DD Tech
It's been a year since we released the Beta version of DD Tech. Since then, a lot has changed.
We improved the UI/UX and are currently working on chat – DD Talk. DD Talk offers an improved user interface and user interaction for both techs and end-users to chat on a ticket.
2017 highlights for DD Tech:
Other:
Roadmap feature
The roadmap is available for our customers have a quick view of what we are working on. You can check it out here: http://roadmap.deskdirector.com/
Support
We have added more support people this year and we will offer a consulting service next year as well.
Reminders
There will be no support for the old WPF client (15.6.1 and below) past December 31st.
And we will require all ConnectWise clients on RESTful API by the same date.
To learn more, click here.
Office and support hours during the holiday:
Our offices are closed over the holiday on December 25th, 26th and January 1st & 2nd.
Our normal support hours are Monday to Friday, from 8.30 am to 5.30 pm NZST. Please note, we are 13+ hours ahead of UTC.