DeskDirector is all-in on the Microsoft Graph API – here's why:
The Microsoft Graph API is a watershed moment for corporate computing. It is also the biggest opportunity MSPs have had in two decades in business. Forget the diminishing margins on software and don't overthink losing infrastructure jobs.
If you can get really good at writing to this API – directly or through abstractions like Flow and Power Apps – you are going to make much better money than you ever did building Windows servers. It will be a lot more fun too.
The infrastructure side of Public Cloud gets the most of our attention and that is blinding us from opportunity.
Sure, Public Cloud will recast our 'Lights On' roles to a pure design role rather than the traditional design/implementation role. This will sunset a lot of the work we previously considered our bread and butter. Building your own Exchange Servers will soon become an anomaly for you if it hasn't already.
The truth is that it never made economic sense for most MSPs to maintain advanced Exchange Server expertise. The hard truth was that many didn't. MSPs were building Exchange Servers as a result of the constraints of on-premise computing. It was never about the optimization of tech skills. On-premise computing created the problem and then exacerbated it at the same time. Server builds - let it go.
The future is in the Public Cloud and it comes from a different place and it is called the Microsoft Graph API. This technology opens a whole new Phylum of 'Leverage' roles that never existed. MSP land is about to have a Cambrian explosion.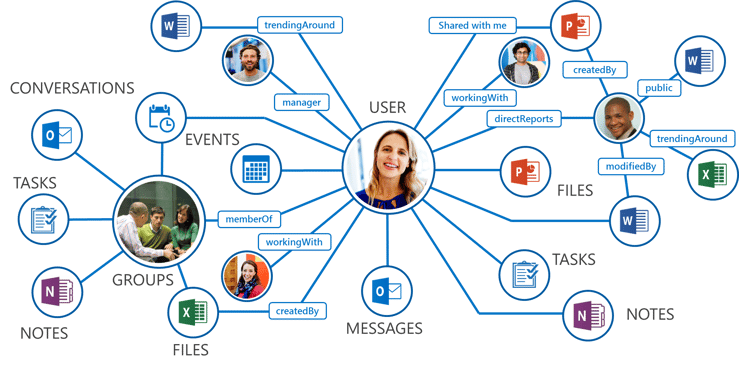 Think of the MS Graph API as Microsoft's "one API to rule them all". In short, it is a single cloud based access point to get to all Microsoft's applications and, for those on Office 365, all the data they hold for you.
This request returns a list of all the files in the cloud on my OneDrive:
https://graph.microsoft.com/v1.0/me/drive/root/children
This request returns a list of all my emails in the cloud that contain the phrase "MSPs get more money":
https://graph.microsoft.com/v1.0/me/messages?$search=" MSPs get more money"
If you have the right permissions every document is accessible from anywhere on the Internet. If a user or process needs access to a Word doc, Excel Spreadsheet, Exchange Email, Outlook Appointment, OneNote page anywhere in the world it can have access.
In the mid-nineties, as the Internet started becoming ubiquitous, we were presented with the same opportunity. Suddenly a computer anywhere on the Internet could share data with any other computer on the Internet. Cue 20 years of prosperity.
Now the same shift is happening for the 95%+ of corporate documents that sit in Microsoft formatted documents. It is an outstanding opportunity.
DeskDirector is all-on on this opportunity. Watch out soon for mind-blowing workflow using MS Flow and a document publishing system based on MS OneNote. All powered by the Graph API.