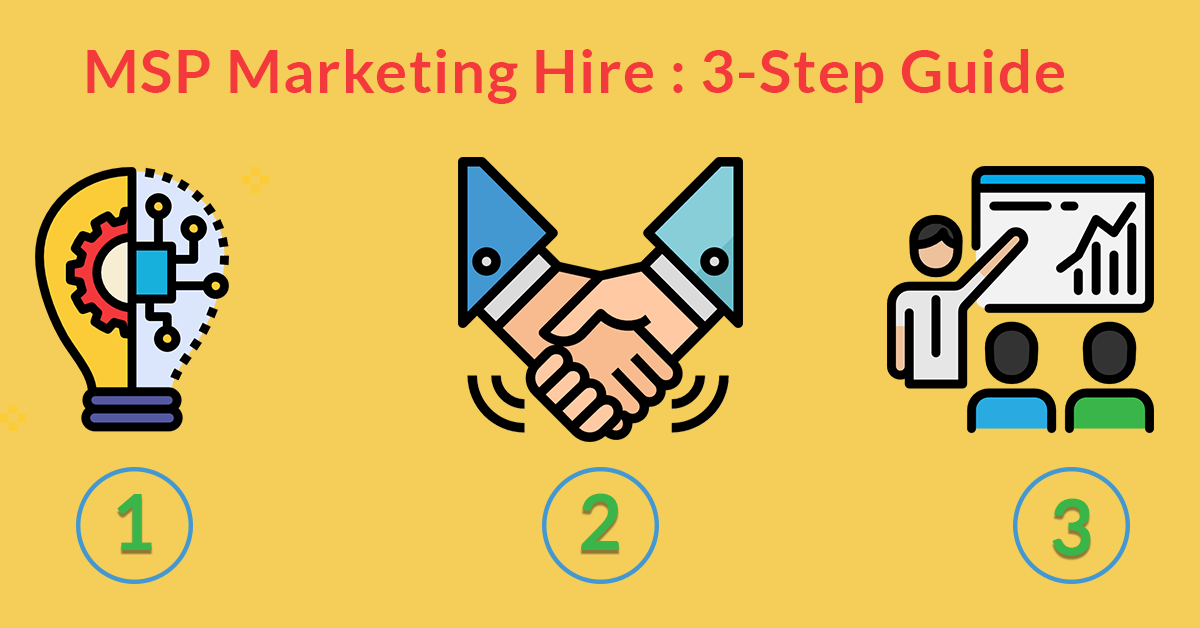 MSPs are slowly but surely realizing the pressing need for marketing. Once you decide on hiring someone for your MSP Marketing team, there is a different hurdle that awaits.

WHO will be marketing fit for my MSP Business?
WHAT should be my hiring process?
HOW to onboard a new MSP marketing hire?
We understand exploring a new role that you may never had to hire for in the past can be daunting. So, we have compiled a blog post series helping you Hire, Interview and Train your MSP marketing hire. The Part 1 of this series covers WHO to hire? If you are still at the stage, read this. If you know WHO to hire, let's move on to the WHAT. We talk about the process you should follow to get the most suitable fit for your MSP Marketing team. Hiring is an expensive and time taking process, and you would not want a trial and error. You would want to get it right the first time around!

Here are the steps you should follow when Hiring for you MSP Marketing Team:
Pre-Interview
Create a Job posting that appeals to your audience
The job ad should be concise but have all the requirements listed on it. Post the jobs on the right platform. If you are looking for a graduate - post on platforms which cater to them. The job description should paint a clear picture of what the job entails. Include Videos from your MSP Business. They will instantly know where and what your company does.
Pro Tip: Be as specific as possible. Include the required years of experience in the tech industry and the skill set. If you need someone to write a blog, they should have experience with content writing.
Conduct online tests to get the 'interested' candidates. Most candidates will callously apply for positions. The interested ones are going to invest time in going through an online test. Otherwise, you will be left will hundreds of application without a filtration process. You can ask them about basic marketing concepts like SEO and SEM. Also, dive into specifics with Lead Generation Strategies and their experience with it.
DeskDirector uses Hireroom for their prescreening process. With Hireroom you can set up an online test, and you can track all the activities of a candidate on it. You can see if they plagiarized, the time spent on each question and even what they deleted. You know the working knowledge they possess and the grasp over it. Hireroom will help you choose the most suitable candidates for the interview.
Pro Tip: Ask questions which help you in your selection process. If you are looking for an Inbound Marketer, ask them questions like 'What is the buyer's journey?'or 'What is Inbound Marketing?'. Go a little in-depth with 'Do you think Inbound Strategy is good for MSP Marketing?'
Interview Process
During the Interview checks
A checklist of your requirements should be in front of you when interviewing a person. As you keep asking them questions you can take notes down and giving them a score against it. Irrespective of the skill level, few requirements are the same across all positions – being proactive and curious, good social skills and working independently and with a team.
If they have questions, it shows they yearn to learn. You would want them to be proactive and have had a look at your website and know about your services. Try to gauge if they are interested in working for a tech company which can be rather different from their previous experiences. Ask them about the blogs or podcasts they follow. The things they do to stay relevant in the industry. This shows their agility towards learning new things which is very important for MSP Marketing. You can move them along the technical challenge if they meet your requirements.
Pro Tip: Ask them for their work portfolio or work samples. Focus on their experience in the field and what they know about MSP Marketing. You will be able to see their sincerity when they have done some homework.
There is a difference between a marketer and a tech marketer. They need to have some technical knowledge or at least the willingness to learn about the industry. You can watch them work in your office environment and see how they tackle hurdles. Give them a real-life campaign which will help them realize the scope of work. You will be able to see how they apply themselves. Over here you can see if they can walk the talk. Some people do not interview well, but their work does the talking.
Pro Tip: Give them an easy project you are looking to working on or going to be in the future. Through their challenge, you will be able to learn from their perspective. It will be easier to judge which candidate is suited the best for your needs.
Final Interview - Get them familiar to the team
MSP Marketing is teamwork, so it is essential for them to get along with the rest of the team members. Usually, MSPs Marketing Managers or Coordinators fly solo. Irrespective, they need to stay in touch with support and account manager who can provide them with a wealth of information. Lastly, your team will be able to have a different perspective on the candidate.
Pro Tip: You could skip this step, but we recommend you not to. An informal session will help you foresee the working dynamics between the team. All of it contributes to the team's efficiency and effectiveness.
Post-Interview
Decide on HOW to Onboard and the project champion
It is likely that your new marketing hire will be a solo role. Considering this, be sure to allocate a "buddy" to assist the new person. This could be your General Manager, one of the Account Managers, or the Head of Sales (if you have one). The most important point to note is that, as a marketer, the new team member will need to get an in-depth understanding of how your business works, how you pitch to your customers, your target market, among other factors. They can help in onboarding the new hire and tell them about the company. You must set up a framework around which the marketer will be working. The onboarding process for an MSP marketing hire is different from help-desk engineers. Acknowledging that is essential. They are not as technically sound and are unaware of the industry.
Pro Tip: We have a third part of this blog talking about how to train the MSP Marketing hire. The blog has taken into account experiences from leading MSP Marketing Managers in Australia.

MSP Marketing hire can be challenging. You need a person who understands technology, is ready to go an extra mile and never gives up on learning. The combination might be difficult to find, but not impossible. The process above will help you find your MSP Marketing Champion. Happy Hiring!