MSP Marketing can be a tricky affair! It tends to be tough because you need to gain trust through your marketing efforts even before there has been a sales meeting. The services or products you sell are an investment for your future customers. Thus, they want to be entirely sure that they can trust their potential managed service provider.
Here are 5 tips for MSP Marketing which will help you establish trust with your prospects.
1. Create IT Relevant & Educational

Content
Good IT-related content will empower your prospects with the knowledge they need to succeed. If you are sharing relevant and informative content with your customers, they will always come back to consume more. As a result, it will help you build trust and be seen as an authority in the IT industry. You will also need to consider creating content for all the three stages of the buyer's journey: awareness, consideration, and decision. This will help you to connect with your audience at every step.
Pro tip: While good content in any form can be a great tool, videos are the most effective in MSP Marketing. Here's How:
Sound and visuals make videos a highly engaging media; which is excellent for educating or entertaining your audience.

Videos are helpful in explaining complex topics such as cloud computing, blockchain, or cybersecurity. Yes, it can be pretty complex for people outside of the IT industry, and you need to keep that in mind

Videos produce the highest organic reach and engagement on social media.

Statistics show that

7 out of 10 B2B Buyers watch videos during their buying process.
As an example, Evolve IT can be an inspiration for MSP Marketing. Their blog page has a perfect blend of problem-solving videos, as well as company related videos and articles. To start with, you don't need to have expensive video equipment; you can record videos with your smartphone camera by finding a quiet place in the office with good lighting (you will need a microphone too). Here we have a video on how we set up our video room at DeskDirector.
2. Social Media Marketing
Now you might think that the service you provide is strictly business, and nobody would be interested in your social media. You will be surprised:
According to LinkedIn, social selling has an influence of 64% in the revenue of the IT Industry.

Social Media tends to put a face to the company, helping prospects meet the people behind the scenes and enabling them to trust you even more.
71% of consumers who have had a good social media service experience with a brand are likely to recommend it to others. It is one of the most over-looked channels for MSP Marketing. However, social media is a great platform to build a trusting relationship with your audience. You don't have to use social media to share only news or other business-related content, make it fun! E.g., celebrating a birthday in the office, having a team lunch or a new person joining the team. Showcasing your culture is an essential aspect of building trustful relationships.
Below is an example of how IBM is putting a face to their company and appealing to the emotional side. It talks about empowering girl power which makes you think they are a company a conscience. They automatically earn brownie points for it.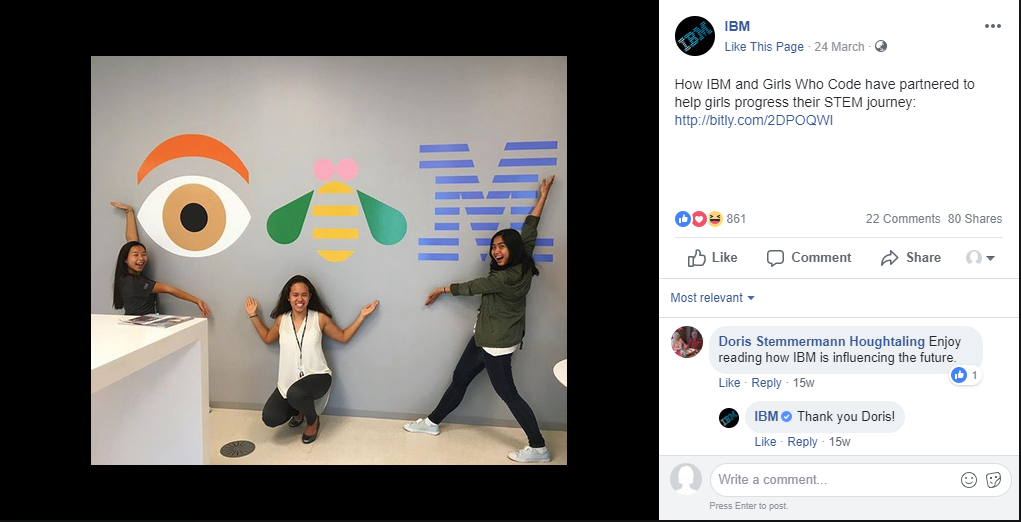 Picture source: IBM Facebook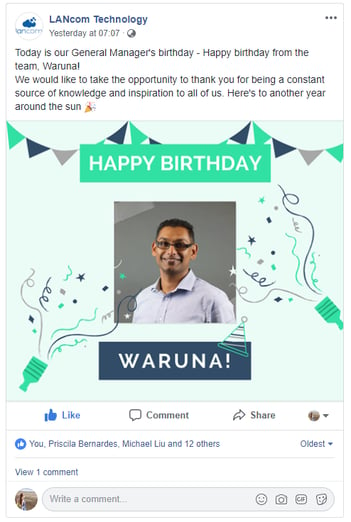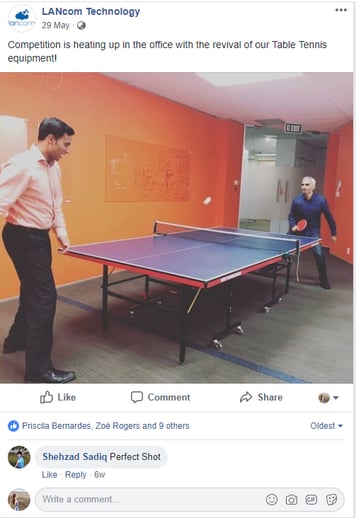 Here's also an example of how Lancom MSP shares their culture on their Facebook:
3. Get Reviews
Hubspot says that 9 in 10 buying decisions are made with peer recommendations. Today reviews on google and social media are equivalent to the old age 'word of mouth.' Reviews can be a powerful tool in MSP Marketing to create trust. Here are some best practices:
Don't afraid to ask your clients to write a review for you online.

Do case studies which would be accessible to your prospects. Through this, you can show the value addition of your services to real businesses.

Don't be shy of publishing positive feedback your support team gets from a client; reviews is like an honor badge. Promote it on your website and share it on social media.
A good review can be the push you are looking for, on the other hand, a bad review can cause irreparable damage making it a double-edged sword. TelWare has a great example on how to use a customer feedback system-SmileBack to get reviews for marketing purposes.
4. Email Marketing
In emails, personalization is the key. On an average, an average office goer receives 121 emails per day. You would want to make sure that you personalize the subject as well as the body of the email according to the buyer's journey. One size fits all does not work anymore. Through these emails, you have the chance to show your prospects that you care for them enough to not send irrelevant marketing emails. This will help in gaining their trust and not see you as a spammer.
Sending them relevant emails will lead to high open rates and click-through rate. For B2B services, emails are a high source of lead generation. The right email workflow can help you nurture your lead into a customer. By putting a Call-to-Action, you can push them further down the buyer's journey. You can be a MSP Marketing hero with the right email campaign. Here is an example of an email sent out by Squarespace.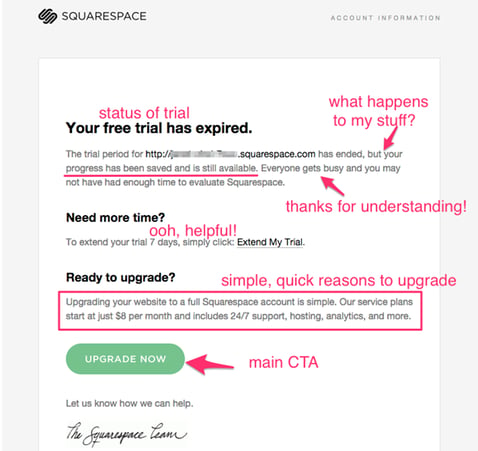 Picture source: incredo.co
5. Focus on Your Clients First, Not Competitors
While other MSPs are focusing too much on their competitors, you should be focusing on learning everything you can about your audience. This will help you build better content, recognize their pain points and goals that you can address when building content, emailing or doing social media. Over time the needs of your clients are going to change, and you should be the first to acknowledge it. This will not be possible if you turn all your focus on your competitors. At the end of the day, your competitors are not the ones who are going to give you business (unless you steal it from them :D) Now that we have established how valuable your customers are to you, you also know that Meeting your customer's needs and expectations should be your number one priority for MSP Marketing.
This where DeskDirector can be your biggest support system. DeskDirector is the best MSP Customer Experience Platform. We enable you to personalize the customer portal, include a learning management system which would help you for on-boarding. Not only that, your customer is going to be aware of all their support requests. DeskDirector helps you maintain a great level of transparency with your customers. When you tell your prospects that you have a portal to enhance customer experience it will push them to buy into your firm. This would make your MSP Marketing efforts a hit! DeskDirector helps you take care of your clients keeping them in the loop at every stage.
This can be your strongest competitive advantage if used to full potential. It can be that one revolutionary tool for delivering your Service Level Agreements (SLA). Good customer experience is what differentiates you from the rest. DeskDirector will help you deliver that.
Building trust will take time, but once you achieve the art of it through marketing, there is no going back. Empathize with your customers and show them your best!