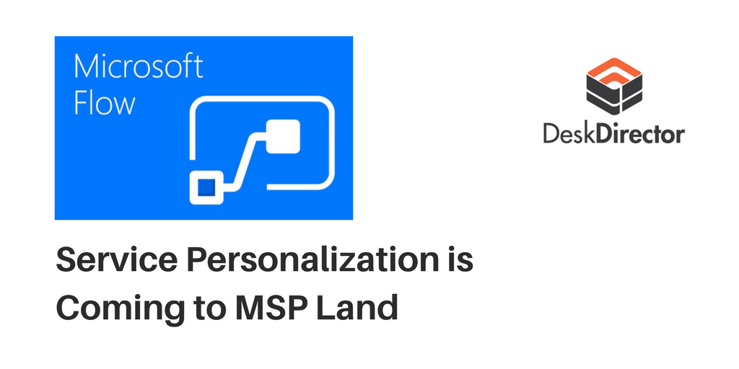 We are experimenting with Microsoft Flow and it is a big thing - about small things. Service personalization is coming to MSP Land.
When I was doing account management at my MSP I would have regular meetings monthly. During the meeting I would regularly get asked for a small change to our services.
"We have auditors in the next month between the 20

th

and the 30

th

. Can you set up mail accounts for them and then delete it 30 days later"?

"If this group of workers has not logged in by 12pm then they are working off-site. They will be working over 4G, can you add this to every ticket and make it a P1. We'll be happy to pay for that extra service"

"We will be stuck taking on these dates in the next 12 months. We have these requirements for tickets 2 days before and during"
Each request was small and specific. I would diligently write them down. Back in the office, I would talk to the service manager and he would write that down. He would pass the information on to the techs who would write the service note somewhere in the site documentation (or a post-it note on a screen). Everybody planned to meet the small request when it came about.
Days, weeks or months later the request would need to be activated. To do so, the tech would need to visit their notes or stop to update themselves on the site documentation. The request was often missed. An easy win became a niggling loss.
DD Portal's integration with Microsoft Flow can check every ticket for every rule and requests. No matter how small or how many. You can set up rules and process for your own MSP practice. You can set up rules and process for SoPs and particular techs. Most importantly, you can set up rules & requests for customers, their employees and their processes. Any information that is available on the web can guide how your service ticket progresses.
We have never been able to do this before. We have it in our development plan today.
We are expecting this to happen next year.