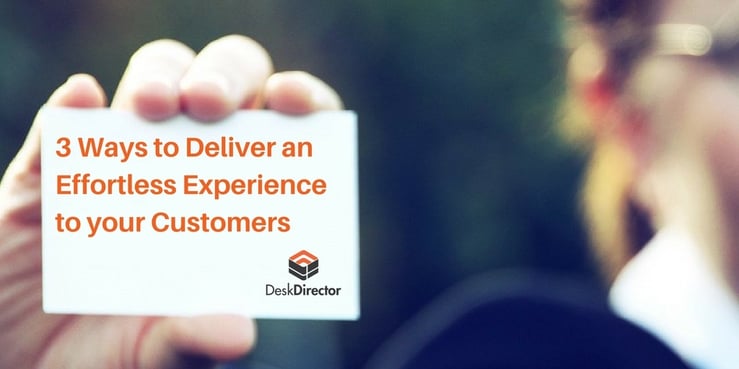 Great customer experiences are effortless. By designing effortless experiences into your service, you will have a huge head start on the competition. Customers choose effortless first. If you aren't the effortless experience you are stating with a handicap when winning and growing business.
Uber's success is built around effortless experience. Comparing the Uber experience with the traditional taxicab is revealing. They are very different experiences. Only one is effortless.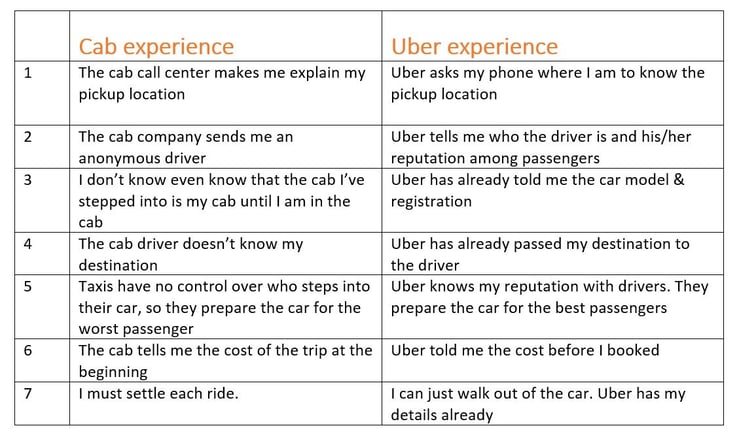 Uber has made each of these seven interactions effortless. It has removed key niggles and doubts that traditional taxi services left in their service from decades of service. This focus on effortless service is the engine room of an 8-year-old, $60 billion company.
"Companies that create services and products that reduce customer effort achieve positive business results."
Here are three ways that you can help your MSP deliver an effortless experience:
Reduce time on the task
Requesting and receiving IT support are the main tasks your customers need to do when interacting with your business.
Requesting IT support. This sounds like a small task. Your client sends an email that "something is not working". The auto responder in Autotask or ConnectWise PSA sends an email: "someone is working on your request". At some stage, you contact your customer requesting as much context as possible to solve their problem.
Here is where you start wasting your customer's time. They are not IT experts; you are, but you are making them take the effort to explain all the details. Then the email communication goes on and on; even worse, it gets lost in the myriad of other email correspondence.
Receiving IT support. You have finally figured out what is not working. You need to communicate back to your client, which means interrupting your customer by email or phone once again.
Make it convenient
It looks like email is not the greatest tool for your customers to request IT support. What else can they do? Pick up the phone? That is more effort than writing. It is time consuming and inefficient.
However, there are situations when it is more convenient for you or your client to talk on the phone. For example, if they have a BIG issue and are super stressed about it. In this case, you need to give them some reassurance. They need to hear the confidence in your voice and that you are on the task, and they can sleep well for now. We do not laugh: empathy is one of the key elements of a great customer experience.
Make sure you provide your customers with tools that are convenient for them, as well as appropriate in the given situation.
However, in most situations, phone calls and emails are inconvenient and time consuming.
That is why DD Portal exists. It was designed by an MSP with a clear goal in mind – to deliver a great customer experience.
Your customers can create and track the ticket, add additional information or close the ticket, all in one place. Service request types allow your customer to ask the right questions right at the beginning. This means you can get all the necessary information upfront. As a result, everyone saves time and you have a chance to deliver your services faster and more effectively.
There are many other cool features in DD Portal but the idea is the same; it is to provide your customers with the tool that is convenient and requires less time on the task.
Give your customers the right tools to make it convenient for them.
Make it simple
"The more straightforward a product or service is to use, the less physical and mental effort is required" - Matt Watkinson.
ConnectWise's customer portal, is also designed to assist your customers with requesting IT Support.
Technology exists to make our lives easier but not all technology is intuitive, simple, or easy to use. ConnectWise and Autotask are complex systems. At LANcom MSP, we have been using ConnectWise PSA for the last 10 years. It is a great system but far from simple for the end-user.
That is why we built our own customer Portal, because we needed a better alternative to Autotask and ConnectWise customer portal. We have purely focused on the end-user experience.
Our development team is using Google's material design practices to deliver a completely revamped portal, even better than it was before. A quick sneak peek here.
Conclusion:
Technology is changing the world and if you are not following the trend, your customers become an easy pick for the competitors.
Of course, technology is not the only solution. Besides, you cannot make your customer experience 100% effortless using just technology.
To start with, what you can do is to track all the steps along the customer journey and identify where they can get stuck, confused or frustrated. This should help you to develop a detailed guideline for your business to deliver an effortless experience.
You will be surprised how many opportunities there are to reduce effort!
At DeskDirector, we help your MSP to reduce the amount of effort required by your customers.
Try our demo version of DD Portal for Free:
This article is inspired by Matt Watkinson "The ten principles behind great customer experience".